Georgia Special Event Insurance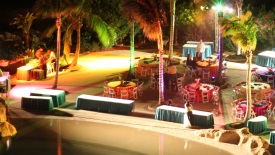 Special Event Liability Insurance provides protection for situations in which an event holder, exhibitor, concessionaire or vendor must defend itself against lawsuits or pay damages for bodily injury or property damage to third parties. Special event liability insurance is generally required by the venue/landlord to limit their liability exposure due to your event.

Whether it is a wedding, golf tournament, group, clubs or another event with a general or liquor liability exposure, we offer several products to cover a variety of special event coverage needs. In addition to competitive coverage, we can offer the stability of an A++ A.M. Best rated company.
Special Event Insurance in Georgia
Main Event
Having peace of mind during the management of a special picnic, parade, car show, concert or other event can go a long way.
Concerns about volunteers, temporary workers or committee members are alleviated knowing that they will automatically be protected during the event. We can cover your one-day, multi-day or annual events that have up to 10,000 attendees.
Wedding Plus
Weddings are a once-in-a-lifetime opportunity to make a couple's day special. From the dress to the food, we know you want everything perfect. Insurance might be the last thing on your mind during the planning process, but it should be the first!
We give the gift of peace of mind to you as you plan your wedding. On a day when nobody wants anything to go wrong. Make sure it turns out right!
The Host
Perfect for special events featuring host liquor liability exposures, this product has separate limits for general liability and host liquor liability, no deductible and coverage for damage to rented premises.
We can provide protection for events that need rain date coverage, set-up/take-down coverage and more. Where alcohol is involved, anything can happen. Don't leave things to chance - consider this important insurance.
The Long Shot
Hole-in-one contests are a great way to add revenue to any charity golf tournament at little cost. In addition to offering coverage for the golf outing as a whole, USLI offers unlimited prize restoration for hole-in-one contests up to $50,000 per hole. If a hole-in-one is made, an additional 20 percent of the prize value will be paid to the hosting charity.
Contact us today at 770-716-0180 for a quote for your special event insurance. We can search our companies for low premiums, extended coverages options and even exhibitor insurance if needed. We can service Fayetteville, Georgia including the Augusta, Dalton, Douglasville, Metro Atlanta , and Newnan areas.